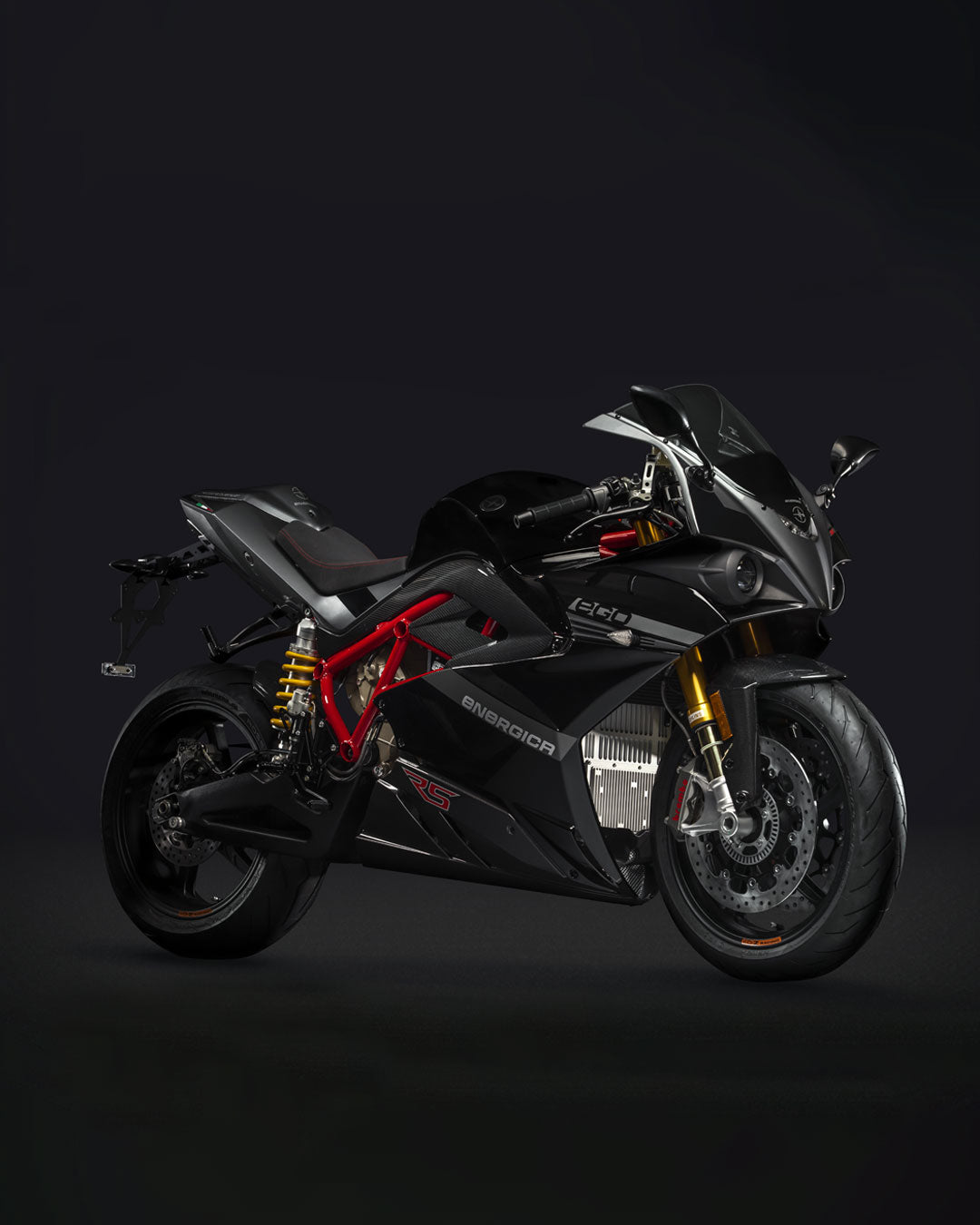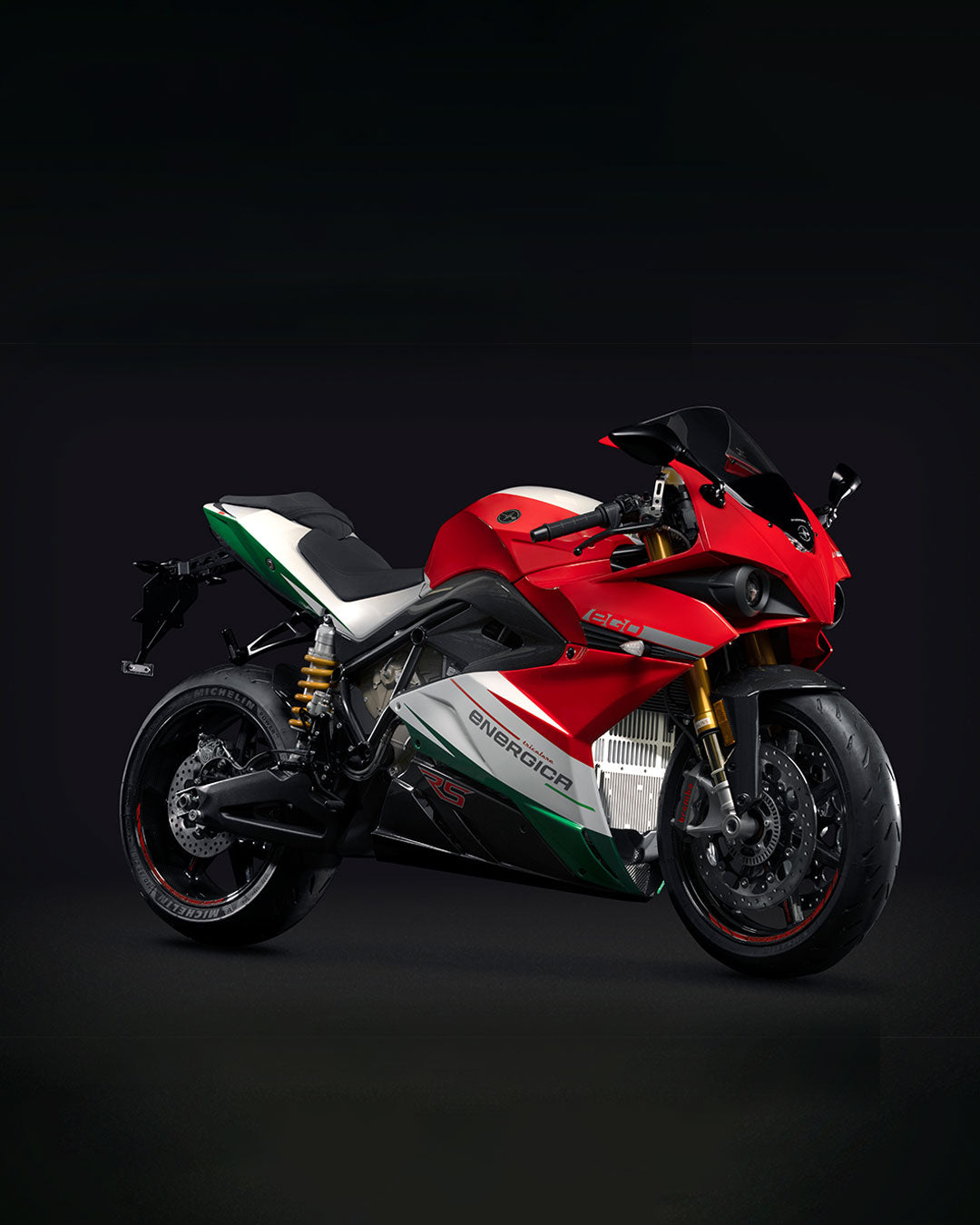 Item is in stock
Hurry! Low inventory
Item is out of stock
Item is unavailable
Description

Specifications

The Brand & Review
The world is turning to electric. And you can still have fun, lots and lots of fun.
Still the world's most powerful and advanced electric motorcycle that gives IC liter bikes a run for their money. Without emissions.
The Energica EGO burst on the scene at EICMA in 2013. It was then a culmination of years of electric racing competition, with numerous victories including the 2010 European Championship during the first zero-carbon TTXGP competition and runner-up for the 2011 TTXGP World Championship.
In 2018 Dorna selected Energica to be single manufacturer for the FIM Enel MotoE™ World Cup through 2023. These all-electric races at iconic MotoGP circuits all over Europe feature 12 international teams, fielding 18 race pilots on identically prepared EGO Corsa racing machines. As a result, we'll have four additional years of intensive technical development at the highest possible level for performance and sophistication of any electric motorcycle in the world.
In 2019 we launched our 21.5 kWh battery platform to the public, adding to our original and unique features of superb power, top speed and DC Fast Charging with the longest range of any electric motorcycle you can buy. The "RS Version" upped the ante with even better acceleration than ever before.
With the new EMCE motor and inverter we did it again – adding not only power but 10% range at higher speeds.
Click here for more info: Energica Motor Company – The italian electric motorcycle manufacturer
Dimensions-
SEAT HEIGHT
810 mm / 31,9"
WHEELBASE
1465 mm / 57,7"
LENGTH
2140 mm / 84,2"
WIDTH
870 mm / 34,25"
HEIGHT
1166 mm / 45,9" (mirrors not included)
WEIGHT
EGO+/RS 260 kg (573 lbs.) (EMCE)
EGO 282 kg (621.7 lbs.)

Performance
MAX SPEED
Limited at 150 mph
ACCELERATION
EGO+ RS Version 0-100 km/h (0-60 mph): 2.6 sec (EMCE)
EGO+ 0-100 km/h (0-60 mph): 2.8 sec (EMCE)
EGO 0-100 km/h (0-60 mph): 2.9 sec
TORQUE
EGO+/RS 215 Nm / 159 lb-ft (EMCE)
EGO 200 Nm / 148 lb-ft
POWER
EGO+/RS Peak 171 hp (126 kW); Sustained 149 hp (110 kW) (EMCE)
EGO 145 hp (107 kW)
RANGE*
EGO+/RS City: 420 km (261 miles) – Combined: 246 km (153 miles) – Extra-Urban: 198 km (123 miles) (EMCE)
EGO City: 200 km (123 miles) – Combined: 161 km (100 miles) – Extra-Urban: 128 km (80 miles)

New EMCE Motor provides approximately an additional 5% – 10% of range according to riding style vs. the previous motor design thanks to lower weight and greater thermal efficiency.
All range testing carried out in real-world conditions on actual road surfaces.

RIDING MODES
4 Riding Modes: Eco, Standard, Wet, Sport
4 Regenerative Maps: Low, Medium, High, Off
PARK ASSISTANT
Back and Forth (Slow Speed)

Battery
CAPACITY
EGO+ Max 21.5 kWh / Nominal 18.9 kWh – lithium polymer
EGO Max 13.4 kWh / Nominal 11.7 kWh – lithium polymer
LIFE
1200 Cycles @ 80% Capacity (100% DOD)
WARRANTY
on vehicle 2 years – on battery 3 years / 50.000 Km (31.000 miles)
RECHARGE
DC Fast Charge Mode 4: 400 km/h or 6,7 km/min;
Slow Charge Mode 2 or 3: 63,5 km/h
BATTERY CHARGER
Onboard, [110-220]V [50-60]Hz, 3 kW. Conforms to Standards SAE J1772 and IEC 62196-2 with pilot signal for charging station interface
LPR FUNCTION
Long Period Rest: allows the maintenance and automatic balancing of the batteries during long period of non-use
CHARGE INTERRUPTION
The vehicle can be configured to autonomously stop the charge at a certain level. The user can configure this function through the dashboard
Energica is pure innovation, design, and production in the context of 100% electric mobility. We are dedicated apostles of Change and Revolution in the world of Sustainability.

"Energica has the advantages of range, power, speed and style in spades and critically it's available right here right now. I love what the company is doing, they are absolutely leading the way in the segment in terms of performance and volume by a mile and If I was in the market for a new bike, they would have me."
- Nigel Morris from Moto-Electro
Zen Motorcycles specializes in showcasing and re-selling top-of-the-line motorcycles that prioritize your safety on the road. We understand that choosing the right motorcycle can be daunting, and that's why we are here to help. If you have any questions or concerns about our products, please don't hesitate to reach out to us. Our team of experts is always ready to provide you with the information you need to make an informed decision.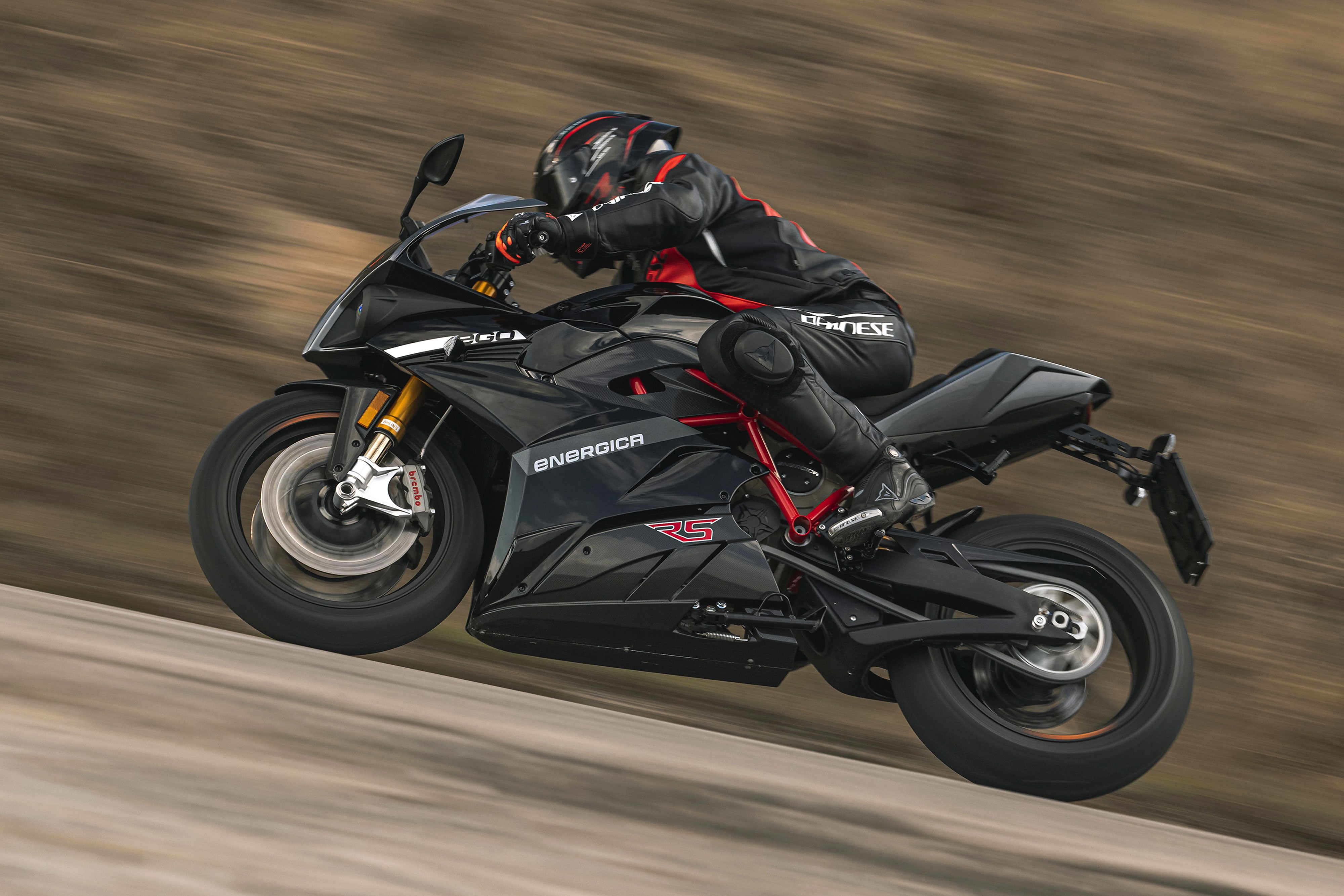 Best performance ever
EsseEsse9 is a bike out of time. With a retro style yet thoroughly futuristic innovation, EsseEsse9 gives riders the best of both worlds.
Pure fun from racing to the road
The vast experience and know-how we acquired in the racing world live under the sport fairings of Ego, the bike from which the Ego Corsa of the FIM Enel MotoE World Cup championship was developed.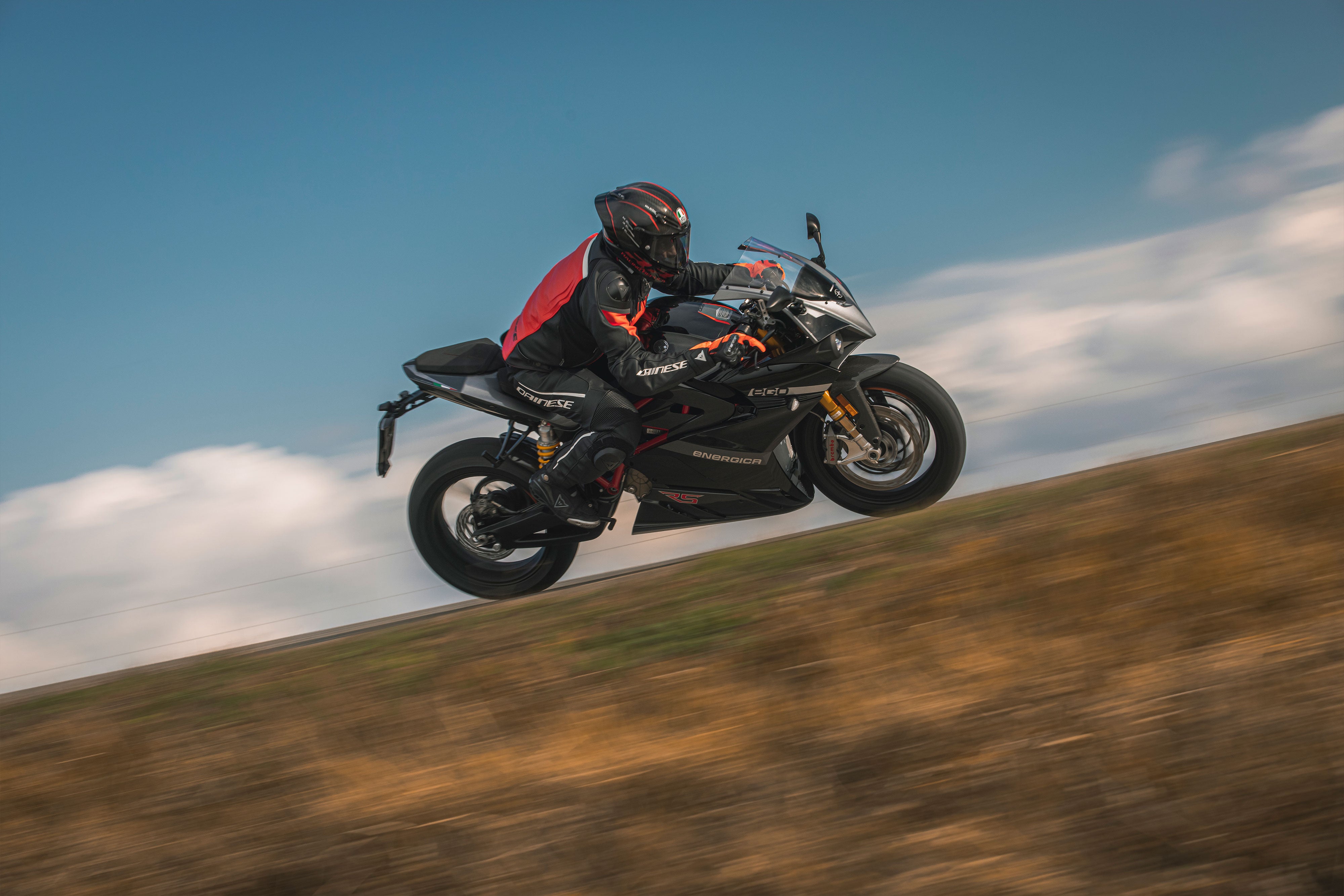 ENERGICA REVIEW
Nigel Morris from Moto Electro
Energica has the advantages of range, power, speed and style in spades and critically its available right here right now. I love what the company is doing, they are absolutely leading the way in the segment in terms of performance and volume by a mile and If I was in the market for a new bike, they would have me.
ELECTRIC MOTORCYCLE FAQS
How long does it take to charge?
Thanks to the Slow Charge Mode 2 or 3, you can recharge 1.06 km every minute. (6 Hours) The Fast Charge DCFC Mode 4 mode, on the other hand, charges Energica motorcycles 6.7 km every minute (1 Hour) – more quickly than any other electric motorcycle on the planet.
What's involved with EV motorcycle servicing and maintenance?
Energica Motorcycles will needs regular maintenance, but it is a lot cheaper and most only checks - no engine oil, oil filter, spark plug, air filter or belt or chain. Yes you need to check tyres, suspension, steering and 12-volt electrics. This typically take less than an hour and you can even do it yourself.
How long does the battery last?
The manufacturer states 1200 cycles at 80% Capacity.
Can I use a public charge station?
Yes if it has a J1772 Type One plug.  No if it is a Tesla charger.
Are EV motorcycles LAMs approved?
TBA - Please contact us to find out if there have been any updates.
What's the price of Registration?
Every state is different and has different government incentives so you need to talk to your local state dealer.
ABOUT ZEN MOTORCYCLES
ZEN MOTORCYCLES
ZEN Motorcycles three founding partners Bruce Crerar, Ben Rubner and Chris Pirola are passionate motorcyclists with over 30 years in the industry. The name ZEN was derived in part from the autobiographical novel written by Robert Pirsig, 'Zen and the Art of Motorcycle maintenance'. Additionally the meaning of Zen is to be simple, easy, tranquil, three pillars ZEN Motorcycles has been built on.
SYDNEY'S HOME OF EVM
ZEN Motorcycles is a boutique motorcycle workshop and retail space to service the large Sydney motorcycle community. At ZEN Motorcycles we realise that along with electric cars, electric motorcycles are the future of transport the world over. Climate change is one of the biggest issues facing the world today and we want to be part of the solution by offering EV motorcycles.
SERVICING, PARTS & APPAREL
However, we are not only Sydney's home of EV motorcycles, our love of all things moto means that we will continue to service combustion bikes. ZEN Motorcycles is a comfortable and cool environment for all riders to visit and have their bikes serviced or modified, plus browse a selected range of EV bikes, boutique motorcycle gear and high quality accessories.
VISIT US FOR A TEST RIDE
200 Euston Rd 
Alexandria NSW
Monday - Friday, 8am - 5:30pm
Saturday 8am - 4pm 
This section doesn't currently include any content. Add content to this section using the sidebar.