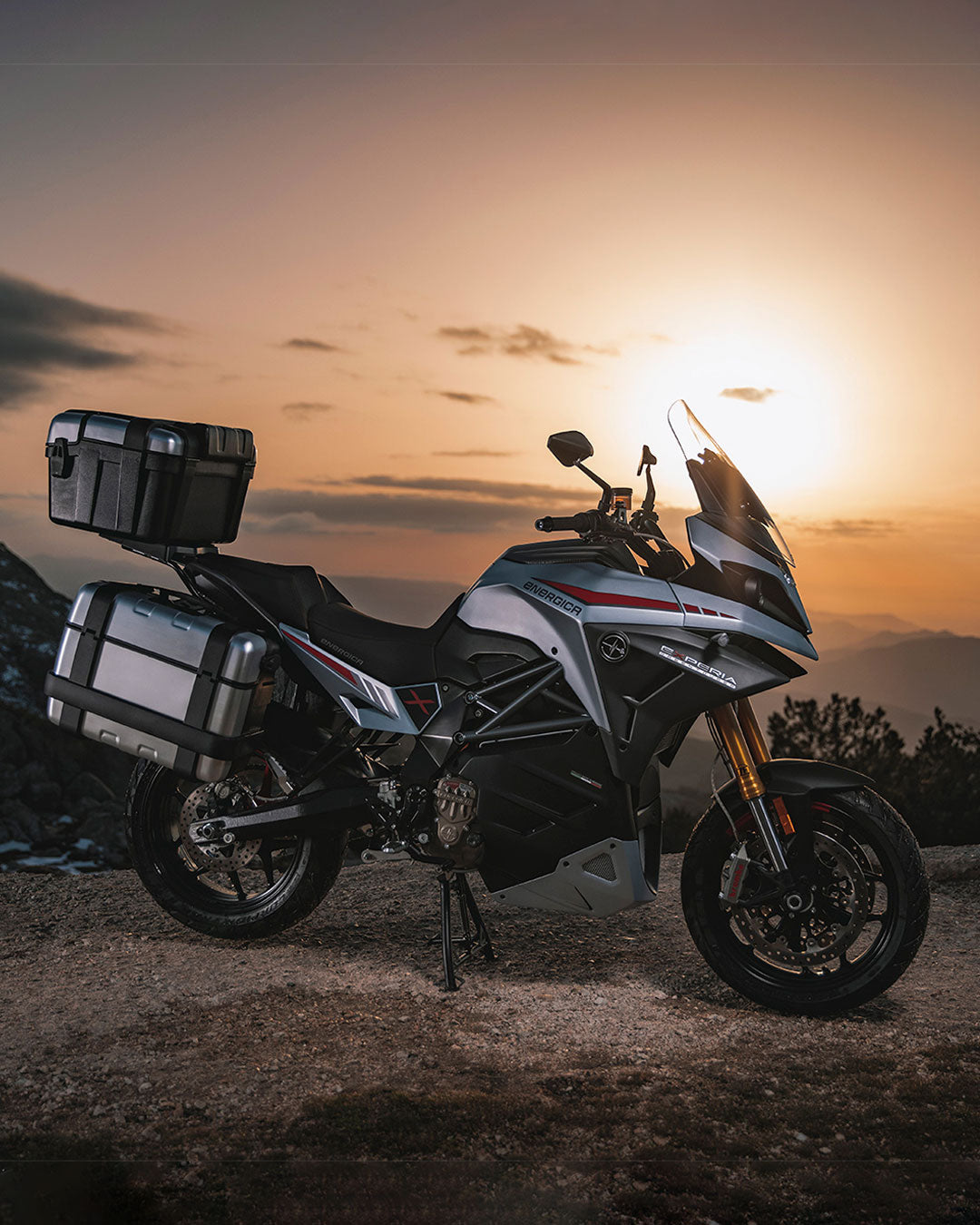 Item is in stock
Hurry! Low inventory
Item is out of stock
Item is unavailable
Description

Specifications

The Brand & Review
EMAIL US FOR MORE DETAILS ON PRICE & PRE-ORDER

Experia is a new 0 emission Green Tourer motorcycle purpose-built to let any rider travel in an environmentally-friendly way to the ends of our now-known world. Experia also aptly denotes the deep expertise we've acquired during a decade of racing, design and manufacturing in the field of electric technology.
The Energica Experia is therefore Europe's first electric Green Tourer bike and arguably the only motorcycle ever built for that intention as a complete platform with a newly-designed electric powertrain and battery. Optimized for long-range, two-up comfort with an aerodynamic sport-touring fairing, adjustable windscreens and ample hard luggage capacity, Experia fully delivers on what mileage-eaters demand, yet is the nimblest and most maneuverable machine we've ever made.
Click here for more info: Energica Motor Company – The italian electric motorcycle manufacturer
TYPE- Permanent Magnet Assisted Synchronous Reluctance Motor (PMASynRM)
DC VOLTAGE - 306V nominal
EFFICIENCY PEAK - 96%
POWER KW/HP -Continuous: 60kW/80Hp at 7000 rpm – Peak: 75kW/102Hp at 7500 rpm
TORQUE - 115 Nm / 85 ft lb. – 900 Nm / 664 ft lb. at wheel
TOP SPEED - Limited at 180 km/h (112 mph)
ACCELERATION - 0-100 km/h (0-60 mph): 3.5 sec
RANGE -
City: 420 km (261 miles)
Combined: 256 km (160 miles)
Extra-Urban: 208 km (130 miles)
WMTC: 222 km (138 miles)

DIMENSIONS:
HEIGHT - 1461mm / 57,5"
SEAT HEIGHT - 847mm / 33,3"
WIDTH - 867mm / 34,1" (mirrors not included)
LENGTH - 2132mm / 83,9"
WHEELBASE - 1513mm / 59,5"
WEIGHT - 260 kg
Energica is pure innovation, design, and production in the context of 100% electric mobility. We are dedicated apostles of Change and Revolution in the world of Sustainability.

"The Experia does everything the Livewire can and in most cases does it better..."
Zen Motorcycles specializes in showcasing and re-selling top-of-the-line motorcycles that prioritize your safety on the road. We understand that choosing the right motorcycle can be daunting, and that's why we are here to help. If you have any questions or concerns about our products, please don't hesitate to reach out to us. Our team of experts is always ready to provide you with the information you need to make an informed decision.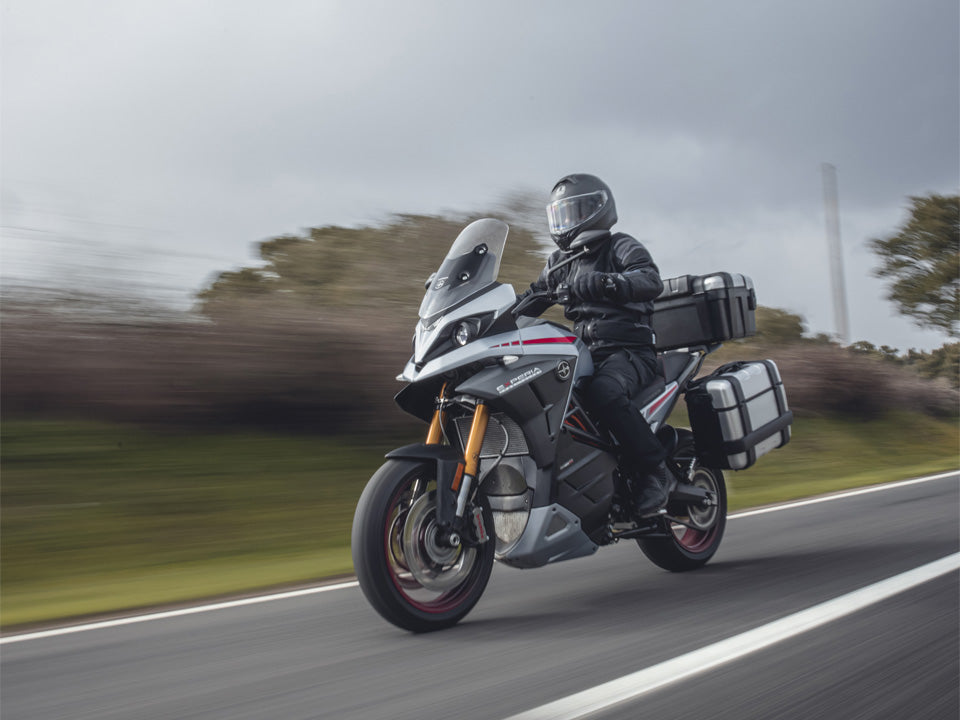 Purpose-driven performance: having the power you need
New High-Tech platform. The Experia motor and battery are both brand new. Battery capacity has increased, yet has a lower weight, plus a centralized, lower center of gravity allows for better low-speed rideability.
New motor and battery
Battery capacity has increased, yet has a lower weight, plus a centralized, lower center of gravity allows for better low-speed rideability. The redesigned PMASynRM motor is also lighter, with less mass, and is positioned lower than in our other models.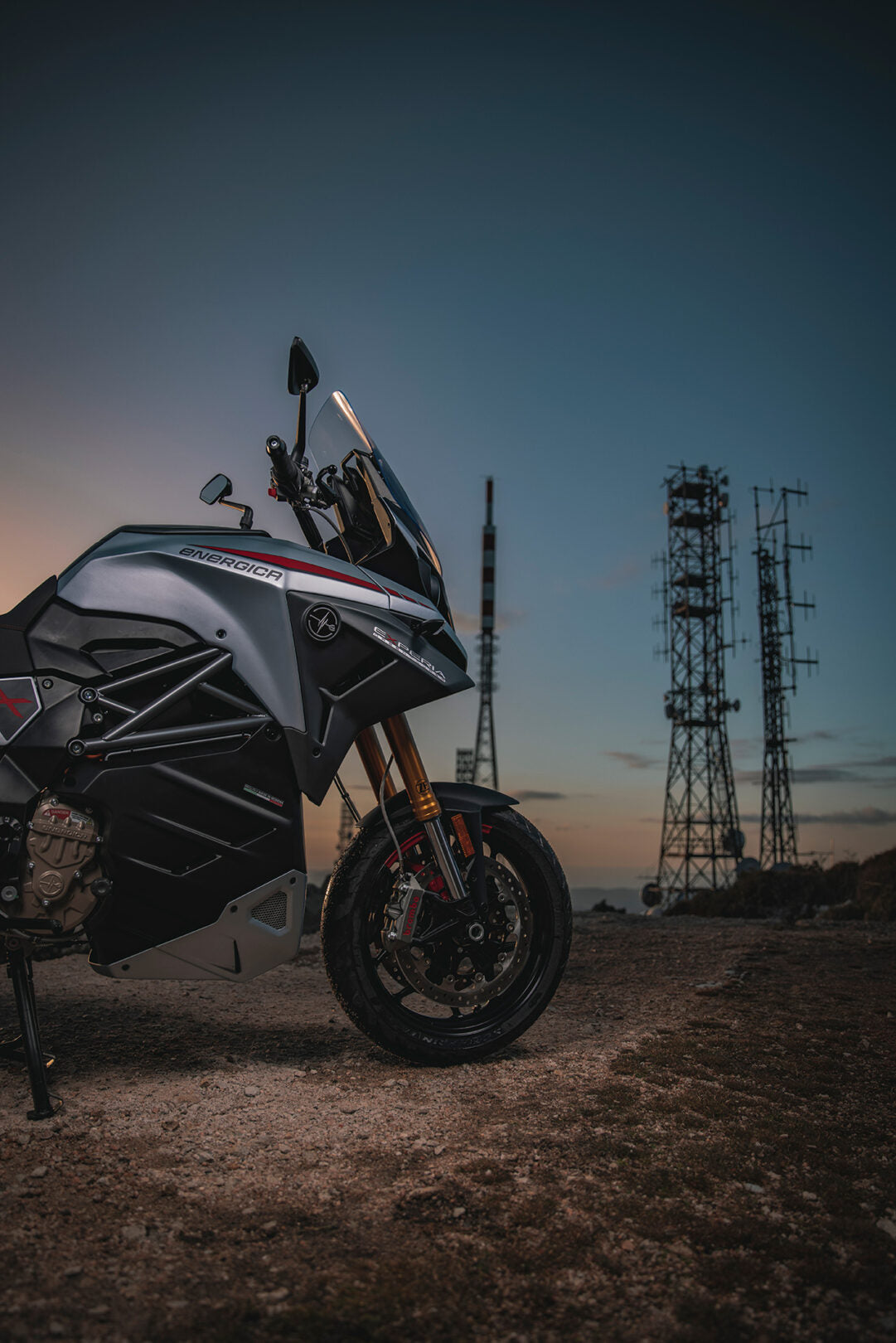 ENERGICA REVIEW
Nigel Morris from Moto Electro
Energica has the advantages of range, power, speed and style in spades and critically its available right here right now. I love what the company is doing, they are absolutely leading the way in the segment in terms of performance and volume by a mile and If I was in the market for a new bike, they would have me.
ELECTRIC MOTORCYCLE FAQS
How long does it take to charge?
Thanks to the Slow Charge Mode 2 or 3, you can recharge 1.06 km every minute. (6 Hours) The Fast Charge DCFC Mode 4 mode, on the other hand, charges Energica motorcycles 6.7 km every minute (1 Hour) – more quickly than any other electric motorcycle on the planet.
What's involved with EV motorcycle servicing and maintenance?
Energica Motorcycles will needs regular maintenance, but it is a lot cheaper and most only checks - no engine oil, oil filter, spark plug, air filter or belt or chain. Yes you need to check tyres, suspension, steering and 12-volt electrics. This typically take less than an hour and you can even do it yourself.
How long does the battery last?
The manufacturer states 1200 cycles at 80% Capacity.
Can I use a public charge station?
Yes if it has a J1772 Type One plug.  No if it is a Tesla charger.
Are EV motorcycles LAMs approved?
TBA - Please contact us to find out if there have been any updates.
What's the price of Registration?
Every state is different and has different government incentives so you need to talk to your local state dealer.
ABOUT ZEN MOTORCYCLES
ZEN MOTORCYCLES
ZEN Motorcycles three founding partners Bruce Crerar, Ben Rubner and Chris Pirola are passionate motorcyclists with over 30 years in the industry. The name ZEN was derived in part from the autobiographical novel written by Robert Pirsig, 'Zen and the Art of Motorcycle maintenance'. Additionally the meaning of Zen is to be simple, easy, tranquil, three pillars ZEN Motorcycles has been built on.
SYDNEY'S HOME OF EVM
ZEN Motorcycles is a boutique motorcycle workshop and retail space to service the large Sydney motorcycle community. At ZEN Motorcycles we realise that along with electric cars, electric motorcycles are the future of transport the world over. Climate change is one of the biggest issues facing the world today and we want to be part of the solution by offering EV motorcycles.
SERVICING, PARTS & APPAREL
However, we are not only Sydney's home of EV motorcycles, our love of all things moto means that we will continue to service combustion bikes. ZEN Motorcycles is a comfortable and cool environment for all riders to visit and have their bikes serviced or modified, plus browse a selected range of EV bikes, boutique motorcycle gear and high quality accessories.
VISIT US FOR A TEST RIDE
200 Euston Rd 
Alexandria NSW
Monday - Friday, 8am - 5:30pm
Saturday 8am - 4pm 
This section doesn't currently include any content. Add content to this section using the sidebar.